---
Last month we partnered with Creative Enterprise Australia's Collider Accelerator program, wherein we teamed up with two early stage creative tech Queensland startups participating in the program: including BLKTATU.
In a day, our partnership with BLKTATU produced a product roadmap, a UX flow, 39,887 lines of code and more.
Read more on Codebots and Collider's partnership
The BLKTATU journey
BLKTATU Founder Clinton Burchat initially recognised the problem of home delivery in 2012, but originally thought someone else would solve the problem. "Cost are high", he said, especially the "last mile, an area where drones excel. So I was expecting an innovative company to have come along and disrupted home delivery with drones by now." But they haven't. That's where BLKTATU comes in.
BLKTATU is a drone delivery company that builds hardware giving drones the ability to deliver to high-rise buildings and other hard to reach locations. BLKTATU has solved the high-rise problem with collection nets, computer vision and auxiliary navigation support. While some drone delivery companies are experimenting with suspension cables, and being caught in trees and dog mouths, BLKTATU is testing wall-mounted capture nets. No more "the dog ate my drone" stories.
Clinton's journey began in 2015, when he made a 2 minute video of his solution to the home delivery problem. Armed with this video, he applied to enter The UAE Drones For Good Award, a competition with a $1 million prize. His video was a winner, and his submission was accepted. With 2 months to prepare, he teamed up with 6 engineers to turn that video into a working prototype.
Despite having very little time to prepare, Clinton's drone navigated its way into the finals. He has been iterating & improving his ideas and exploring possible business models ever since.
It was especially awesome to team up with Clinton because he had cool hardware but hadn't completely explored the possibilities of how software could take his startup to the next level.
Clinton and Codebots' shared win
The workshop was designed to deliver a scoping document, compete with a product roadmap, a requirements backlog and UX & schematic diagrams, and in doing so accelerate BLKTATU towards building an MVP that Clinton could show to potential investors and partners.
Clinton teamed up with our lead designer, Isaac Joekong and developer Woody Hill.
Isaac took the lead in helping Clinton map his product's roadmap and converting Clinton's ideas into a technical requirements backlog, with Codebots pilot Woody taking notes.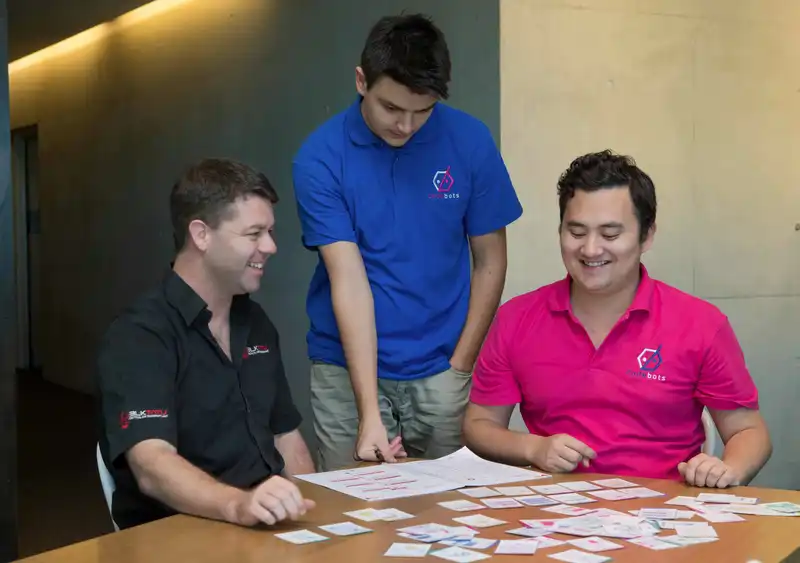 What Codebots does is take the models that all app development projects start with, such as the requirements backlog, and turns these into code.
Because of this, Clinton could concentrate on expressing his ideas, which Isaac and Woody then turned into models.
It might sound simple, but these models, the schematic diagram in particular, are critical steps towards developing an MVP. Which is why it was cool to see Codebots, thanks to Woody's skilled guidance, get to work and write 39,887 lines of code for Clinton.
It's likely that BLKTATU will continue to evolve through the Collider Accelerator program, but between the product roadmap, the input models and the code, this workshop represented a massive boost towards developing an app and MVP.
When the Codebots beta goes live, Clinton will have the opportunity to get online and pick up what we started. Which in this case is 39,887 steps closer to having a prototype.
It was an amazing learning experience teaming up with Clinton and seeing how Codebots could empower early stage creative tech startup founders who would rather spend less time coding and more time creating. As most entrepreneurs do!
The Codebots crew is amped to do more of these workshops and help entrepreneurs #GetSh!tDone! Hope to see you soon.
---