Stories.
Codebots is on a mission to help development teams create software solutions that have a positive impact on the planet. One of our core company values is 'scientific, but not heartless'. As technology continues to evolve, the possibilities of what we can do with it is limited only by our imaginations. We recognise that no amount of technology can ever replace the creative, innovative ideas created by the human experience.

Here we share the stories of the humans behind the bots and how we're empowering change in the community.
Find out how Moreton Island Adventures scaled to 30,000 users
Christine Chien, 16 November 2020
How do you create a custom application with Codebots? We share how Codebots user Moreton Island Adventures created custom software to streamline and scale their business.
How the KMS team doubled productivity in 5 sprints
Christine Chien, 06 November 2020
How can I increase my development teams' productivity? This is a real world customer story on how a team skilled-up on Codebots technologies to realise a serious productivity boost.
How do you create an MVP application quickly?
Eban Escott, 28 October 2020
When we tell people that our customers build powerful custom apps in weeks, understandably they want to know 'how?'. This is the first in a series of customer stories that explores real world, bot-powered solutions.
Codebots sponsors the Women in Technology awards
Shannon England, 10 September 2020
We believe that everyone should have a seat at the table when creating the technology that shapes our world and that's why we support fantastic industry groups like Women in Technology. Check out the video made by our team.
Impactr inspires youth-led change with Codebots-powered app
Christine Chien, 31 August 2020
Changing the world is a massive undertaking, but someone has to do it and why shouldn't it be us? And why wouldn't we use technology, community and the power of bots to speed the whole process up?
Ksatria Medical System: A software estimation case study
Eban Escott, 31 August 2020
Read all about how Codebots helped international development company, Ksatria, migrate their legacy medical system.
Meet the sustainability scientist behind the Codebots Climate Action app
Christine Chien, 19 August 2020
Chris Dey has spent 20 years building clunky carbon calculators in spreadsheets but now he has teamed up with Codebots to bring these tried and tested concepts to life. The result is a web app that can map your expenditure as a business to your carbon footprint. In this interview he shares the history, the ideas and the future of measuring impact.
Meet the ambitious CEO building an app to ignite drastic change
Christine Chien, 19 August 2020
Johannah Maher is the CoFounder and CEO of IMPACTR, a behaviour-changing application that enlists young experts to move the world to take small actions and ignite drastic change. She is building her app on the Codebots platform with the help of delivery partner, WorkingMouse.
Climate Action App: Creating and Estimating the Product Backlog (Part 5)
Christine Chien, 05 August 2020
Next step is to write out our requirements and estimate the work involved in building the CAA app. This is article five in the climate action app series.
Climate Action App: Ideating and prototyping the solution (Part 4)
Christine Chien, 07 July 2020
This article explores the Ideate and Prototype phases of the Codebots scoping process, and how we used them to help build on our ideas for the Climate Action App.
Climate Action App: Observing to Learn (Part 3)
Christine Chien, 24 June 2020
Now that we have our problem and our team ready to go, it is time to dive into scoping! This article explores the Observe phase of our scoping process, and how we did it for the Climate Action App.
Climate Action App: Assembling the Team (Part 2)
Christine Chien, 17 June 2020
Let's take a look at the process of putting our team together and getting our app on Codebots. This is Part 2 in the Climate Action App series where we build out a carbon emissions calculator for small/medium businesses.
Climate Action App: Understanding the Problem (Part 1)
Christine Chien, 14 May 2020
In this blog, we dive into the 'Understanding the problem' activity to get a better idea of what problem we are trying to solve by building a carbon emissions calculator on Codebots. This is part one in the Climate Action App Series.
The Brisbane Design Conference 2019
Shannon England, 08 July 2019
The Codebots Design team attended #TDCBNE19 for the third year in a row for three jam-packed days of inspiration, motivation and creativity.
Mission UK: Codebots takes Manchester
Eban Escott, 07 May 2019
Making our way into one of the world's largest tech hubs, Codebots talks digital transformation at the IP Expo in Manchester, England.
From Singapore to the UK, Codebots grows globally
Eban Escott, 28 February 2019
As we continue our international mission of continuous modernisation among enterprises, we are now thrilled to announce our entry into the UK market!
Codebots Field Trials: Round 1 results
Eban Escott, 27 February 2019
We believe that the software development process industry is broken. Custom software development is often perceived as a time consuming and expensive process. That was the rationale for creating Codebots - to change the software development industry and help companies through their digital transformations.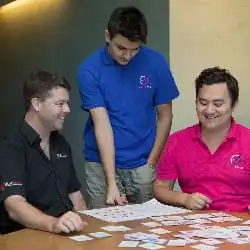 Touchdown: innovative drone startup BLKTATU teams up with Codebots
Eban Escott, 07 August 2017
In a day, our partnership with BLKTATU produced a roadmap, UX flow, 39,887 lines of code and more.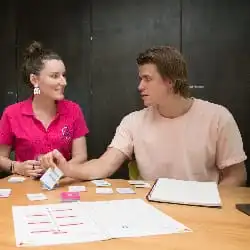 Trnding teams up with Codebots to connect brands and advocates
Eban Escott, 07 August 2017
Codebots legends Jordie and David team up with Jay Van Deurse. Bigs wins include a UX flow and schematic diagram outlining a branding portal.
Codebots accelerates startups with 60,655 lines of code in a day
Eban Escott, 07 August 2017
In a day we helped accelerate startups towards building a unique and awesome MVP with a roadmap, UX flow, 60,655 lines of code and more.