---
Introduction
The kit activities are categorised into four stages that span both the scope and development stages of the of the Way of Working.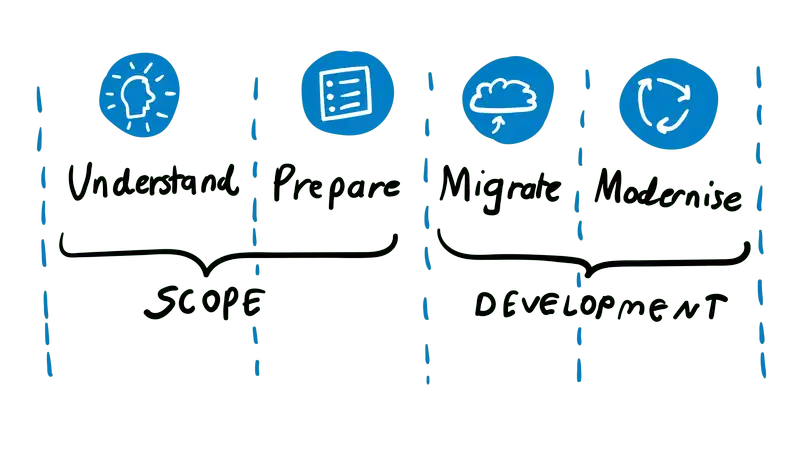 The first stage is to understand the project. In this stage, the team and the stakeholders gather the knowledge, reverse engineer requirements, and conduct experiments to better understand the project.
The second stage is to prepare the project. In this stage, the layers of the community and decision making is mapped, expectations are managed, and stories are estimated.
The third stage is to migrate the project. In this stage, the migration activities are described for databases, spreadsheets, and PDF forms.
Finally, the modernise stage is used to prepare for success in the future.
How to use this kit
Summary
A summary of the activity and why it is being applied.
Level of difficulty
There are three levels of difficulty: Easy, Moderate and Hard. Easy activities don't always mean quick activities, but they are ones that should be simple to pick up and add value to a project. Moderate activities tend to need some pre-planning. Hard activities normally require everyone to be on point for the activity - the fewer interruptions the better.
Before you start
Each activity typically has a few requirements that need to be satisfied before you can start. Normally, earlier activities flow into ones later in the process.
Stage
There are four stages that an activity will be categorised in: Understand, Prepare, Migrate and Modernise. The Understand and Prepare activities occur during scope, whereas the Migrate and Modernise activities occur during development. There is some overlap of activities, and you can do the stages in staggered formation if needed.
Suggested time
This is how long the activity should take.
Participants
The participants of each stage vary depending on the task. They include:
Product owner - the main contact for the project
Business analyst - the domain expert that understands both the business and how to integrate with technology
Squad lead - the project's Scrum Master
Designer - all designers on the project
Web engineer - the software engineer developing the target application
Tools engineer - the software developer testing the target application and improving tooling
Account manager - the account manager for the project
Stakeholders - any members of the team that has a say it the product
Users - user groups who are from the target demographic.
For more information on the roles, please see our WoW roles article.
Materials
These are handy things to bring along to each activity.
Steps
Step-by-step instructions to follow for the activity. Some of the activities will have detailed steps and others will be more of a guide.
Justification
The justification contains any background information, knowledge and references, which further reinforce why this activity is important. The justification length can vary depending on the activity.
---