---
At Codebots, one of our core company values is scientific, but not heartless. We encourage our team to be curious in everything they do, to challenge ideas, and strive for continuous improvement. Experimentation is a core part of our way of working, and we have an experimental framework any employee can use to propose solutions to problems, or ideas to improve processes.
What is an experiment?
An experiment is a scientific method of evaluating ways to solve a problem. Codebots uses experiments as a way for our business to hypothesise potential improvements or changes to our way of working. An experiment is usually run when a problem is identified, or when someone has an idea for optimising the way something is done. A hypothesis is outlined, ideas are tested and results are measured to make meaningful decisions about if and how outcomes should impact change within our business.
How do you start an experiment? Using the experimental framework.
Codebots uses an experimental framework as part of our methodology for proposing experiments. The experimental framework is our guide for taking an objective and scientific approach to setting up an experiment.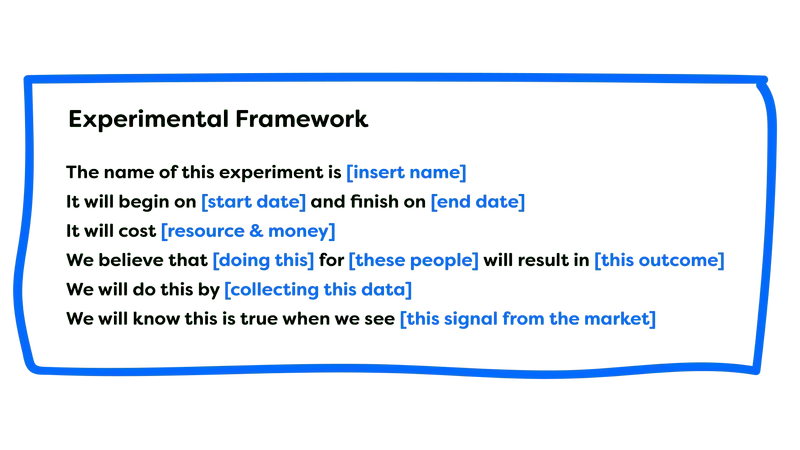 Team members use this framework to briefly outline an experiment proposal. You can learn more about proposing an experiment in this article.
It is important that your experimental framework is extremely simple and accessible, as the point is to give everyone in your business the power to contribute to changing the way your business works. While anyone can use the experimental framework to propose an experiment, it is important you assign someone with the responsibility for facilitating and decision making. This ensures all experiments are run and new changes are implemented, with the best interests of your business, your team, and your customers at heart.
How do you run an experiment?
How you run your experimental process really depends on what works best for your company. One of our partner companies, WorkingMouse, have adopted the experimental framework into their own way of working. They manage experiments using a Jira board that is visible to the entire company, so everyone can see the status of all experiments: what's in the pipeline, what's upcoming, what's complete, and the results and outcomes. This allows everyone to actively contribute and give feedback.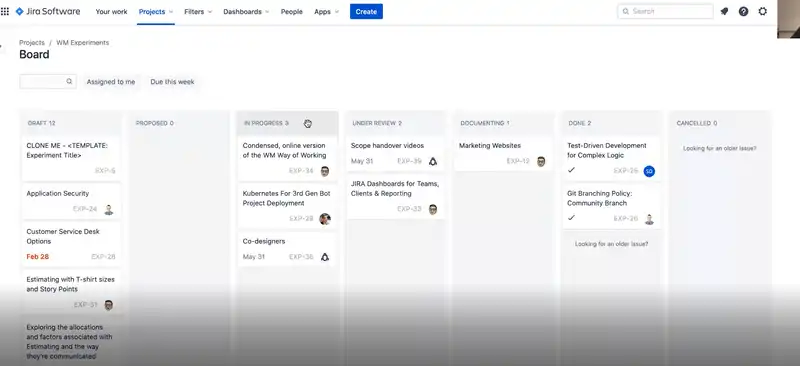 No matter how you choose to run and manage your process, it's important to ensure that you limit the number of experiments you run at a time, to prevent overloading your team. Running too many experiments simultaneously can also lead to inconclusive data, or an inability to attribute actions to outcomes, especially when you're testing multiple solutions for one problem.
How do you collect and use results in a meaningful way?
Depending on the experiment, results can either be qualitative in the form of notes and stakeholder feedback, or quantitative when metrics can be measured and compared. Generally, all experiments are classified as either people-based or metrics-based. If an experiment is testing an improvement rather than a new idea, if possible, it is a good idea to run the experiment simultaneously with your current process, in order to do an adequate comparison of impact.
We recommend documenting your entire experimental process, from proposal through to conclusion. Make sure to also log any feedback, findings or amendments along the way.
We record all experiment documentation in our internal Codebots Library, so any team member can access this information at any time.
Once results are collected, we recommend completing a retrospective, so you can determine the outcomes of an experiment and decide on next steps. The following are three common conclusions:
A hypothesis is proven and actions are made to update policies and procedures to integrate the solution or idea;
Results are inconclusive and further exploration is necessary. The hypothesis may be altered to reflect a changed control factor, and another experiment is run. Sometimes there are multiple solutions and an action plan is necessary, but you may decide you are not ready to pursue these ideas further yet, and further exploration is put on hold; OR
A hypothesis is disproven or found to be counterproductive and no change is made.
Why an experimental mindset should be part of your business' way of working.
Introducing experiments into your way of working has an array of benefits for your business. Continuous modernisation is the key to competing and thriving in the modern business world, and thus, you should be continually trying to improve your processes and products to avoid becoming stagnant. Introducing an experimental framework into your business is a fantastic way to engage your employees, boost your team culture, and ensure you are continuously improving your business in a scientific and meaningful way.
Having an experimental mindset in business is similar to an Agile mindset in project development, encouraging decision makers to embrace change. Using a scientific method for change is an evidence-driven approach that ensures the changes you make are strategic.
There is also immense cultural benefit in experimentation. By introducing an experimental framework and inviting everyone to contribute, employees feel empowered, having the opportunity to influence the way they work, and the broader company direction.
Our scientific, but not heartless value is probably one of our favourites. It reminds us to be strategic in our approach to problem solving whilst remembering that people are at the heart of everything we do.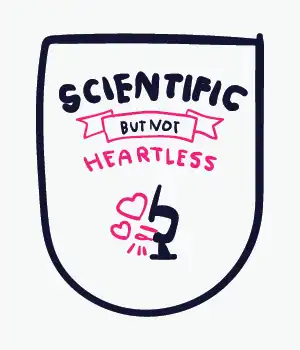 ---