---
To achieve our vision of bots and humans building better software together, we are constantly innovating and experimenting with how we can make a codebot part of the software team.
Codebots partnered with University of Sydney (UTS) to create Codebots BotVision – an exciting artificial intelligence R&D project to give our codebots sight.
On Wednesday 14th October 2020, Codebots BotVision was awarded QLD state winner for the iAwards 'Biggest Pitch' Startup of the Year category.
The iAwards are awarded annually by each state council of the Australian Information Industry Association (AIIA) in recognition of excellence in Australian innovation and contributions to the Australian digital ecosystem.
Codebots BotVision uses artificial intelligence and document analysis technology to convert hand-written whiteboard sketches of business processes to a functioning software application prototype in one meeting, without writing a line of code.
"This is going to unblock and give people access to technology faster, so they can work on things using the computer vision and other approaches to actually get their software projects going and innovate with purpose," said Codebots CEO and co-founder, Eban Escott.
Codebots BotVision has the potential to transform the software engineering industry to enable agile, cost-effective, customised enterprise and SME software solutions.
A big thanks to our partners at UTS and our R&D department for being on the forefront of the latest in all things tech. This is just a sneak peak into what's coming to Codebots in the future. We can't wait to see what our research team smashes out next.
"This is just the first step on our roadmap towards a suite for sensory-assisted programming bots, we believe that artificial intelligence is not a dangerous tool of control, but a means to understand what we, as humans, want from computers," said Jörn Guy, Head of R&D at Codebots.
AIIA CEO, Ron Gauci, said, "2020 has been challenging for so many businesses".
"The AIIA iAwards entries have seen the incredible ways Australian businesses have innovated during this period and looked for growth," Mr Gauci said. "It is important to recognise and award the businesses that have worked so hard to achieve this.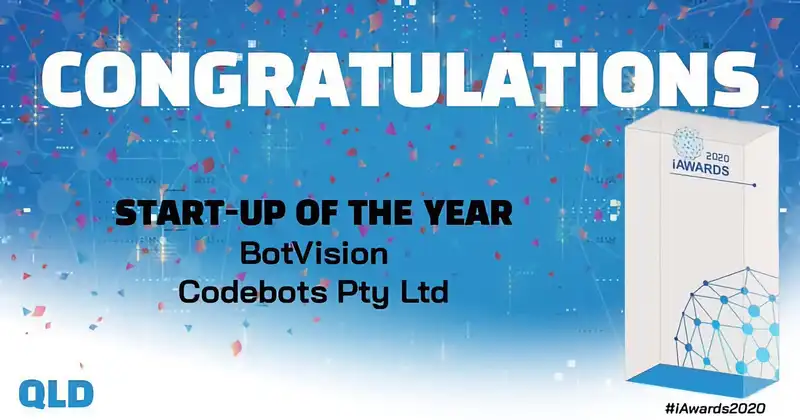 "There is a need for strong domestic skills and an innovation ecosystem which will allow Australia to compete more competitively on the global scale. We believe our winners are reflective of what Australia has to offer to the world."
All state AIIA iAwards Winners will now compete for the National iAwards 2020 title announced on 17 November 2020.
We have our fingers (and bots) crossed for Nationals!
---