C#Bot Setting Up Your Development Environment: Mac
This section will guide you through the installation of C#Bots' core prerequisite dependencies:
NET 5 SDk
Node Js
PostgreSQL
dotnet-ef 5.0
The following steps will walk you through the process of setting up your development environment for Mac. The approximate setup time is 5-10 minutes.
.NET 5 SDK
.Net Core SDK is a software development kit for building and developing C# applications (like those written by C#Bot).
To install the .Net 5 SDK, go to the Microsoft .Net Core to download the SDK. You should reach a page that looks like the image below. Select the .Net Core Installer for macOS.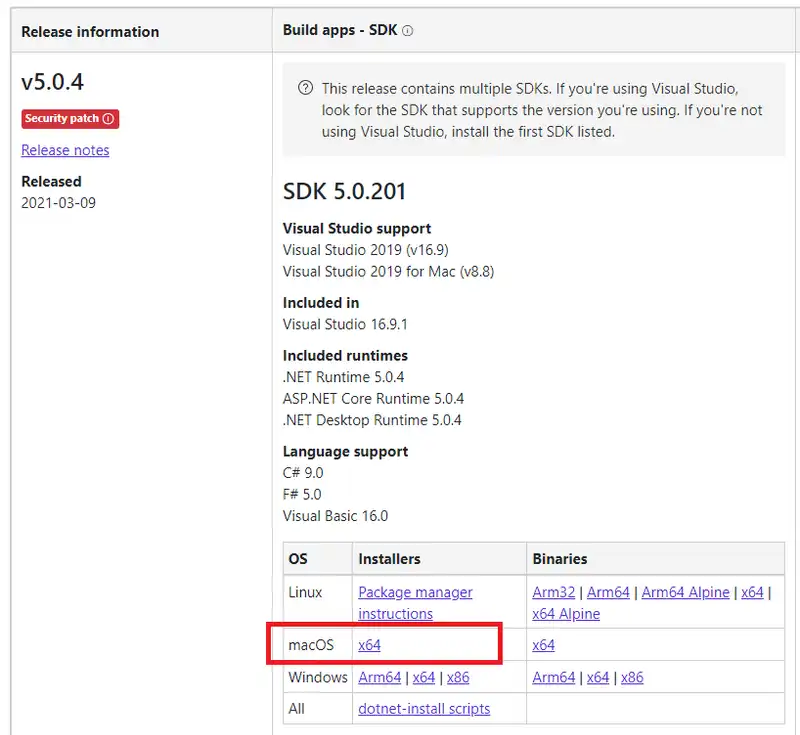 Following the link should start the .Net Core Windows installer downloading. Once the download has completed, run the .pkg and follow the prompts.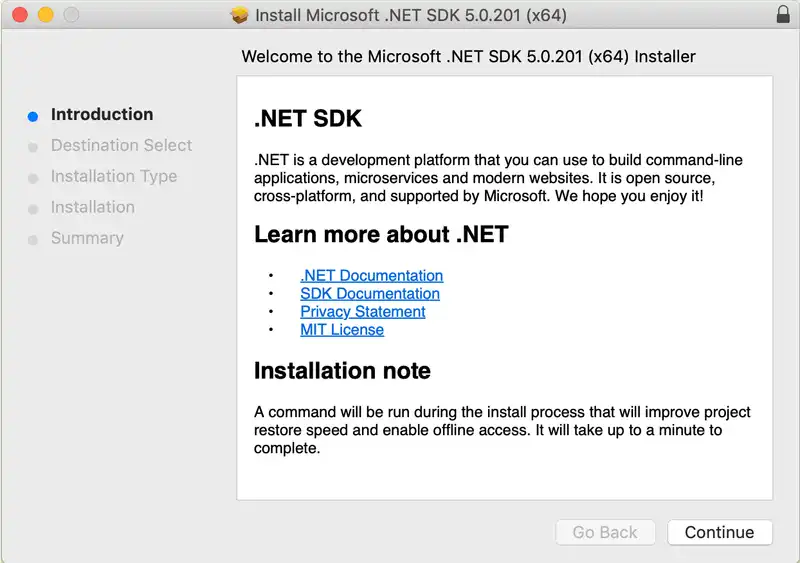 The installer shouldn't require any further input after selecting Continue. The .Net 5.0 SDK should now be installed on your Mac.
Node.js
To install Node.js, go to the Node.js download page. You should see a page that look like the image below. Select the mocOS Installer (shown in the red box) to start the installer download.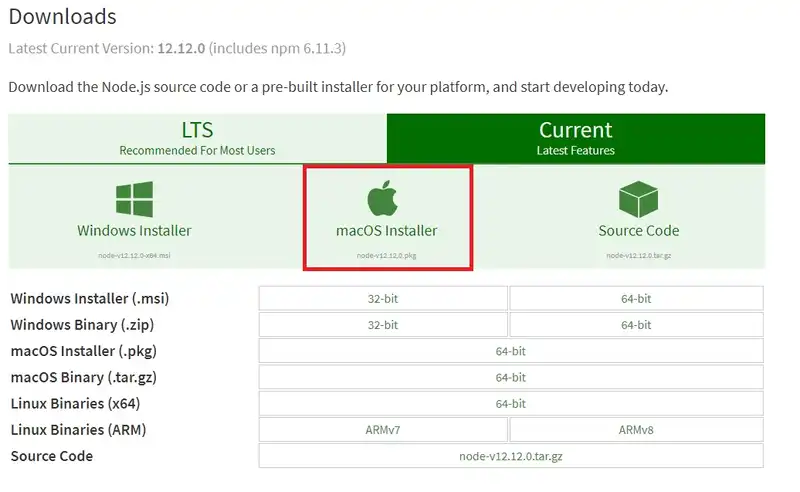 Launch the installer and follow the prompts.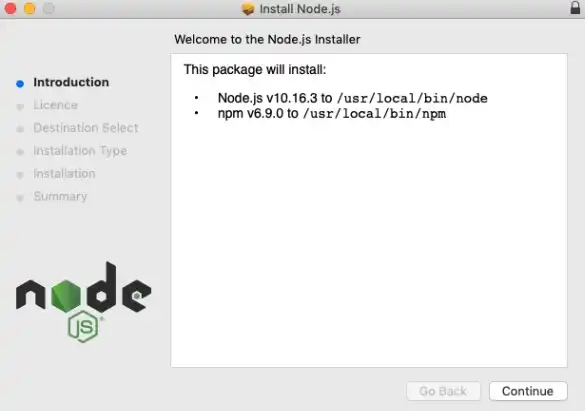 Use the default options throughout the installation process (just keep clicking 'next').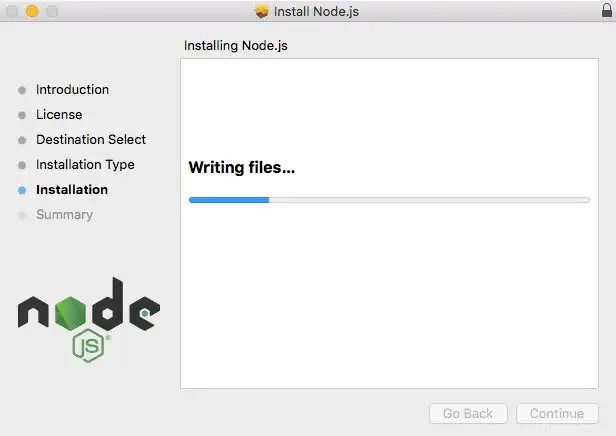 Node.js should now be installed.
PostgreSQL
To install PostgreSQL, go to the enterprisedb postgresql download page. You should see a table on the page that looks like the one shown below. Select PostgreSQL for Mac OS X. The installer should start downloading in your web-browser once you have clicked the appropriate link.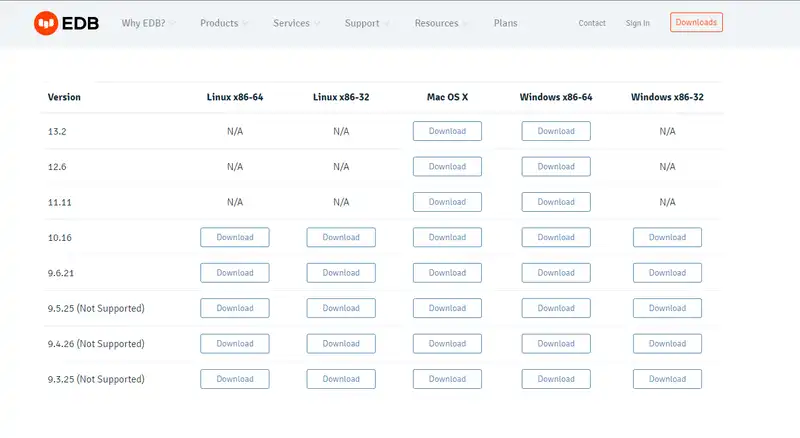 After launching the downloaded installer, you should see an application setup like the one in the image below.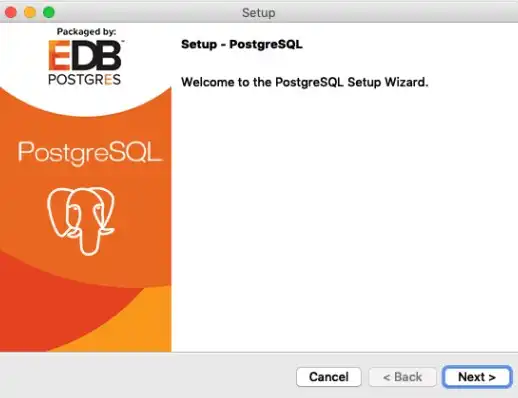 Use the default options for the setup (just keep clicking next), until you reach the screen where the password for the superuser is set.
Set the password for the superuser to pass. If you wish to choose a different superuser password, there are steps in Running C#Bot in the First Time Setup steps for configuring the database connection string to for a user configured password.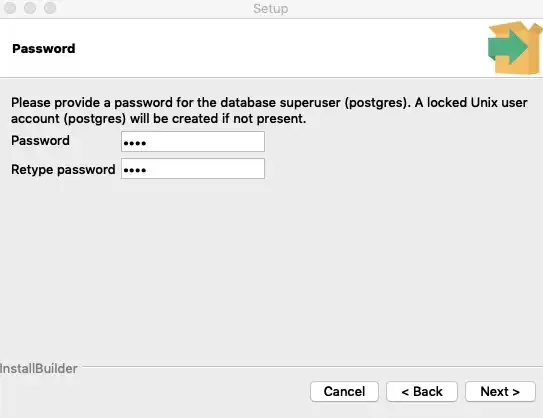 Keep going with the default settings until the last screen is reached. Uncheck Launch Stack Builder on Exit? option and press Finish.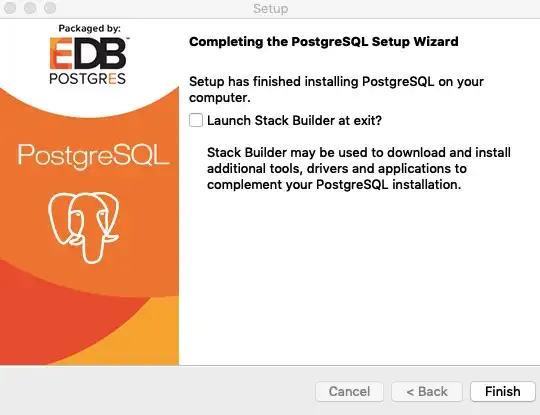 PostgreSQL should now be installed on your machine.
pgAdmin
pgAdmin is a useful database explorer that works with PostgreSQL. It comes installed with postgreSQL in the enterprisedb package installed in the above step.
To access, search your applications for pgAdmin. pgAdmin is a browser-based application and will launch in your web browser. You can use this tool to modify database tables and configurations.
dotnet -ef
dotnet-ef is a package of Entity Framework Core tools for the .NET command line. It is used to create and apply database migrations after making model changes.
To install it, open bash and run the following command.
dotnet tool install --global dotnet-ef --version 5.0

You can verify the installation by running the command below.
Related Articles